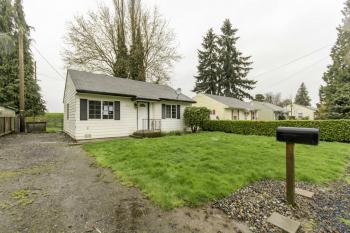 3304 Yeoman Ave
Vancouver, WA 98660

$115,000 New Listing

Single Family Home
2 Bedrooms
1 Bathroom
Interior: 720 sqft
Lot: 0.12 acre(s)
More Photos and Additional Info
HUD HOME FHA OK!
2 BR, 1 BA, 720 SQ. FT. Perfect Fruit Valley Starter Home or downsizer. This bungalow features laminate floors in the main living areas, galley kitchen and laundry area. Spacious back yard w/storage shed and fenced. Plenty of space for the garden, boat, or RV. No Neighbors in the Back. FHA Buyers OK!
Photos
Interested? See more information or schedule showing
For more information, contact (360) 989-3390
Julie R Baldino
Front Door Realty -
Serving Oregon and Washington
Phone: (360) 989-3390
Listing agent/broker:
Front Door Realty

Julie Baldino is a seasoned veteran of the Pacific Northwest real estate industry, and has consistently been in the top 10% in sales for over a decade in 2 states. In order to accommodate a rapidly ex....